Welcome to the
#UPBEATCHALLENGE
A NEW, FAST, FUN & REWARDING WAY FOR STUDENTS TO UPBEAT THEIR SKILLS,
& FOR STARTUPS TO UPBEAT THEIR IDEAS IN 10 DAYS!
FEBRUARY 26 - MARCH 8, 2021
You need to be a member of the Upbeater Society - our collaborative community for students and startups - to participate. 
Students membership is FREE - Startups membership is €29/mo. 
---
---
Have a question?
Check out the UpbeatChallenge FAQs below
---
---
---
1. WHY SHOULD I PARTICIPATE?

Because who wouldn't want to receive creative and innovative ideas from fresh talent?
Especially when it's fast and effortless?!
Get input & ideas for how to solve your challenges from innovative students
Get fresh perspectives and creative thinking on how you can grow your startup 
Connect with & learn from students who're driven to help you succeed
And yes, the students are available to help implement it, should you like to proceed with any of the ideas/concepts (optional)💃🕺   
2. HOW DOES IT WORK? 
The students will get a bunch of challenges to complete in 10 days. 
Some of the challenges are created by us, and some have been reserved for our startups. 
This is your chance! 🙂
If you have a challenge that you want the students to take on, all you need to do is to join the Society and submit it to us before February 24. 
3. WHAT KIND OF CHALLENGE CAN I SUBMIT?
A typical challenge is small and to the point, answering 1 questions, eg.;    
How to make more money: ideas to increase sales, cut costs, funding ideas, pitch improvements, optimization…
Get more visibility: Logo ideas, ideas for a slogan, social media posts, growth hacking ideas, best seo/sem tips…
Sharpen your design: Content ideas, visual identity suggestions, UX/UI & graphic designs, video ideas…
Improve your tech: New web or app design ideas, websites performance/speed, automation suggestions…
Note. You get to submit several challenges, however, depending on how many submissions we get we might only be able to include one. We also reserve the right to select the challenges based on relevance.  
4. AM I ELIGIBLE TO PARTICIPATE?
All startups who meet our criteria of being an early-stage impact-driven startup can participate. You just need to become a member of the Upbeater Society first. 
5. DOES IT COST ANYTHING?
The UpbeatChallenge is included in the Society membership (which is €29/mo and non-binding).
The membership gives you access to the community in Slack where you can continue to collaborate with the students for as long as you decide to keep your membership.
6. WHAT DOES IT REQUIRE OF ME?
Not much, that's the whole point! 🙂 
Just sign up and send us the challenge(s) you want the students to do. We'll confirm, the students will do them, and you'll have their ideas/concepts in your hands in mid-March. 
Optional. Offering a prize for the winner of your challenge(s) will encourage the students to put in a little extra effort. It can be as simple as "the winning concept will be used and credited" or that they get to "test your product/service for free", etc. 
7. HOW DO I JOIN?
Register to join the Upbeater Society and submit your challenge(s) before Wednesday, Feb 24. 
We're looking forward to welcoming you to the challenge. Let's do it!  
1. WHY SHOULD I PARTICIPATE?
Because challenges are fun! 🙂 And while you're having fun, why not take the opportunity to get something valuable from it?!

You'll get to take on some real challenges

provided by our startups 😍

Practice your creative thinking and problem-solving skills

while completing other crazy, fun, and exciting challenges

Connect with & learn from others

by sharing progress, learnings & results

A chance to get hired by a startup and turn your idea into reality (if they like it)

 🌟

And yes, there's a price if that's what gets you going 😉
Basically in a short amount of time, you'll have new things to add to your resume/portfolio. PLUS you will also have new connections which is everything today!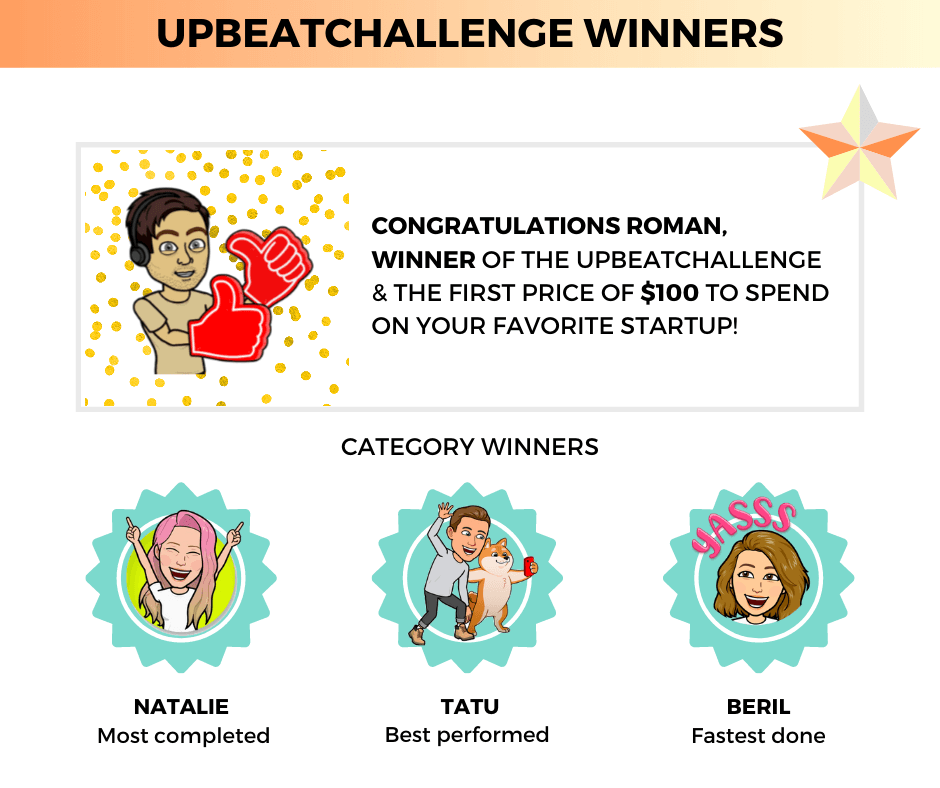 Last times winners.
2. HOW DOES IT WORK?
You'll be given a bunch of fun and rewarding challenges created by Upbeater and our startups, and your mission is to; Complete as many challenges as you can in 10 days. 
Note. The startups will also be selecting the best contributions to their challenges, so quality also matters!
3. WHAT KIND OF CHALLENGES WILL I GET TO DO? 
Here are some examples of popular challenges:
Personality test - gain self-knowledge 
Buzzword test - gain industry knowledge
Branding idea for ihopa - develop your design thinking skills
Ad campaign for RidersPosition - expand your marketing skills 
New info page look for Innoscentia - deepen your UX & UI understanding
4. AM I ELIGIBLE TO PARTICIPATE?
All students who're currently studying can participate. You just need to become a member of the Upbeater Society first (it's Free!).
5. WHAT DO I NEED TO PARTICIPATE?
Nothing more than yourself [or actually your brain], your laptop, a bunch of creativity, and a pinch of humor. It's time to get out of the square school-way of thinking and put your skills into practice with real-world challenges.
Note. With consideration of Covid-19, all challenges will be done without risking your health and safety.   
6. WHAT IS REQUIRED BY ME?
There is nothing binding or forced. If you choose to participate, you're free to choose which of the challenges you'd like to do, how many of them you want to do, and how much time you want to spend on it.
7. HOW DO I JOIN?
All you need to do is sign up to join the Upbeater Society before Wednesday February 24, and you'll get all the info you need in the Society!
We're looking forward to welcoming you to the challenge. Let's do it!  
Disclamer.
The deliverables from the challenges are conceptual and at an idea stage. It  means that they're most likely, and not meant to be, ready products and the deliverables are delivered as is.

If the outcome of a challenge is delivered specifically for a company, the company owns the right to determine how to use the deliverables. They may also decide not to use it should they wish to.

The students are free to use the outcome of their work in their own portfolio and for the purpose of showcasing their skills and abilities as well as their work. 

Upbeater is solely the organizer of the UpbeatChallenge, and is not responsible for the work produced.    
COMPANY
All right reserved
FutureBird AB